Activity 26 - Supervised internships of student players in partner orchestras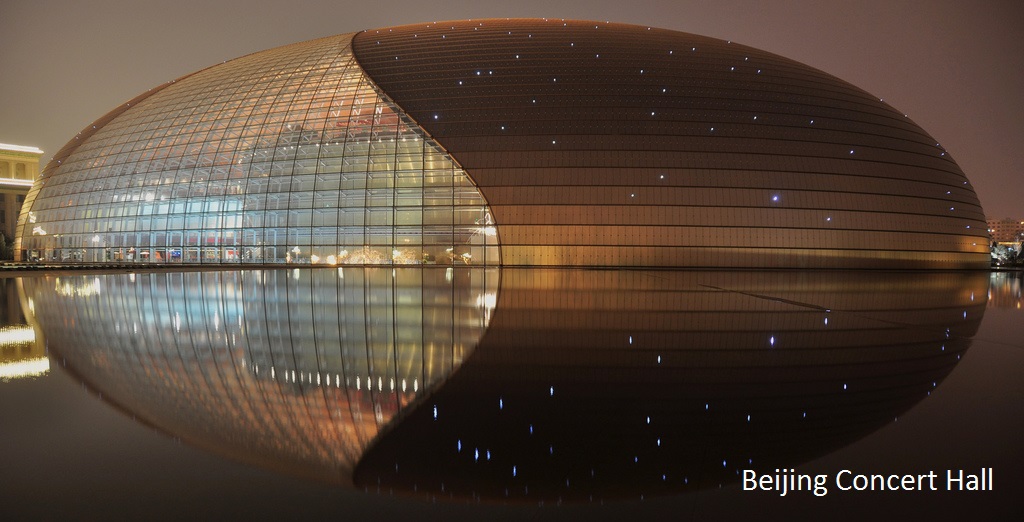 How can young pre-professional players get work experience?
This programme tries to address issues related to orchestra training, peer-learning, progress and innovation in the music profession. It gives young pre-professionals the opportunity to train in a professional orchestra for a residency period. For each period in the hosting orchestras, a professional musician will act as mentor and share the same desk. Beforehand, in order to successfully take on this responsibility, these professionals will follow train-the-trainers-workshops.
This September 2017, four Chinese students had the chance to participate this programme. Ms.Chen SHU, Ms. Duan JING, Ms. Li YIHUA (both violin player) and Mr. Yang YIZE (cello player) spent a week with Orchestre de Picardie (FR), form September 11 to 17, and two weeks with RTV Slo (SI), from September 17 to 29. 
Programme in France
- Maurice RAVEL: Pavane pour une infante défunte
- Jacques IBERT: Concerto pour flûte
- Gabriel FAURE: Pavane
- Pierre BOULEZ: Memoriale - Wolfgang Amadeus MOZART: Symphonie no. 31 Paris
Conductor: Maxim RYSANOV
Soloist: François GARRAUD - Flute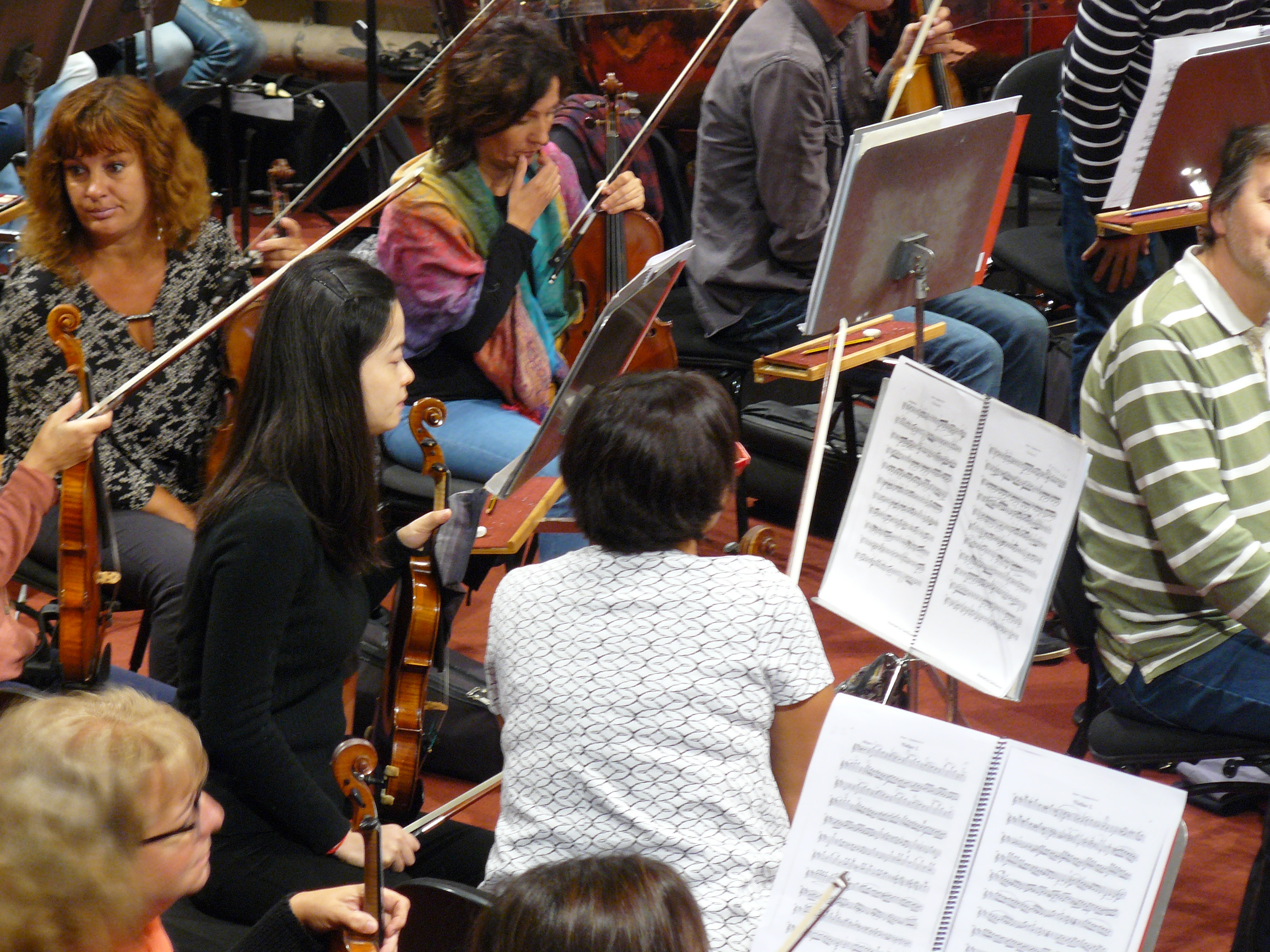 Programmes in Ljubljana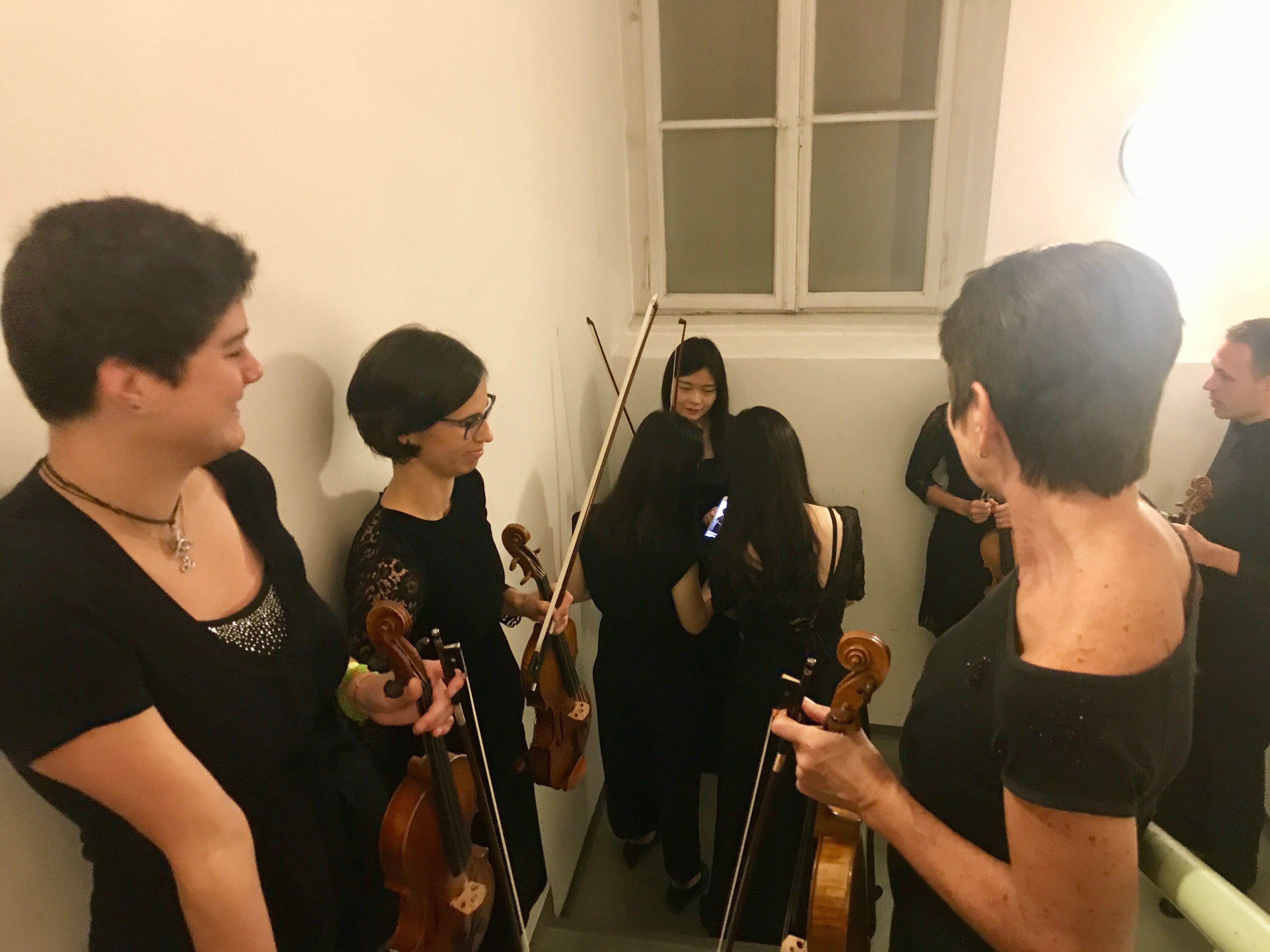 Concert for the Chinese ambassy
- Frederic CHOPIN: Piano Concerto no. 2 Op 21 in F minor, 1st Movement
- Peking Opera, Ode to Pear Blossom
- Love, Qiao's Grand Countryyard
- Acrobatic Ballet
- The Thoughts of the Clouds and Flowers
- I Love You, China Dawn
- Yi Minority, "La Campanella" (3rd Movement of the Violin concerto No.2, Op.7)
- Rainy Lane in a Small Town

Conductor: En SHAO
Soloists: Zala Kravos - Piano, Tianzhu Wang - Erhu, Hongyan Zhang - Pipa, Mingyu Zhang - Tenor, Dan Zhu - Violin
Performers: Yuexin Fan (Peking Opera), Shousen Wang and Ningli Qu (Acrobatic ballet), Students art troupe from Nanjing University of Aeronautics and Astraunautics (Rainy Lane in a Small Town)
Concert with the Academy of Music
- Ferdinand DAVID: Concertino for Trombon and Orchestra, Op.4
- Ludwig VAN BEETHOVEN: Concert for Violin and Orchestra, Op.61
- Florent SCHMITT: Legend, for alto saxophone and Orchestra, Op.66
- Aram HAČATURJAN: Concert for Violin and Orchestra
Conductor: Simon DVORŠAK
Soloists: Matjaž Kafol - Trombon, Lucija KRIŠELJ - Violin, Joanna BLEJWAS - Saxophone, Nikola PAJANOVIĆ - Violin
The students had a great time in France and Slovenia!
We are happy to share their testimonials:

- Li Yihua:
During the study of Orchestre de Picardie and RTV's Symphony Orchestra, I was very happy to meet many friends, and everyone was very friendly to us. At the rehearsal, everyone was very serious. For me, the two orchestra and I have been very careful to point out some places I should pay attention to or play techniques I don't understand. During the three weeks of study communication, I gain too much too much, such as heard the interpretation of more perfect Mozart's music, no noise flute solo, with Mr Chief tai-ping wang Orchestre de Picardie violin and viola, cello, chief of the solo part of the play are very good. It was the best experience of my life. Thank you for the opportunity.
- Chen Shu:
I am very happy to rehearse and perform together with the Orchestre de Picardie and RTV Slovenia Symphony Orchestra. The teachers of the orchestra were very kind and enthusiastic, and they gave me great help in professional knowledge and daily life. I feel more efficient in this sense compared to domestic rehearsals. I was also deeply affected by the enthusiasm of the musicians for music. And I'm honoured to have attended this performance of reception in celebration of the 25th anniversary of China-Slovenia relationship and the 68th anniversary of founding of the People's Republic of China. I thank teacher Wang and the orchestra leaders for giving me this opportunity. I hope I can come back again and learn from you.
- Duan Jing:
I feel very happy and lucky about having this opportunity to rehearse and perform with Orchestre de Picardie in France and RTV Slovenia Symphony Orchestra. I like the music environment in both orchestra. The people are very nice to four of us Chinese people, they won't be hesitate to help us when we had problems in daily life. The rehearsals are quite efficient. Musicians in the orchestra prepared very well which makes the rehearsal goes smoothly. Besides, the scene in France and Slovenia are absolutely beautiful. It gives me different feeling compare to the China. I am sure it will makes my playing more colorful and experencing.
Lastly, I want to say thank you to Mr.Wang Taiping and all the people from The ONE project. Thank you for providing me this wonderful opportunity, really hope to join this project again in the future!
- Yang Yize:
It's a great honor to be here in France, Slovenia and professional musicians to rehearse performances and get a lot of results. And the Orchestre de Picardie performed in the church was a new feeling, special acoustics and this made music more imaginative. I learned a lot during the week: people are very sensitive to the volume control, especially in the weak playing, I can hear each of the parts clearly. So I hold my breath and do it every time when I play Piano. Because any imperfect sound will be heard. Orchestra timbre is elastic and bright, everyone pay attention to performance way  are very unified, the bow on the string can not be too heavy sound, do Forte is quick with a bow, the voice like a more flexible, also let me have a new understanding to the requirement of the band playing. RTV Slovenia Symphony Orchestra study was conducted in the studio, this is my first time in a specially designed for the orchestra of the studio, the professional quality of the musicians is very high, can quickly understand the intention of the conduct , impressive is to have the very strong audition ability, be able to complete the recording task in a short time, high efficiency, let me realize the education of the university of domestic audition training not value, good ability of audition should system of training talents in practice, to be able to do the work up to high standards of the orchestra. Finally, thank you very much for inviting us to study in Europe from the Orchestre de Picardie, which is very enlightening to our future teaching, and bringing back these experiences can be a great help to us.
A few month after, in April 2018, it was the turn of two Mexican students to benefit from the programme.
They spend one week in Bulgaria with NSO, rehearsing and giving a concert, and one week in Germany with Jenaer Philharmonie. 

Back to upcoming events