Activity 04 - Partnership Coordination Meeting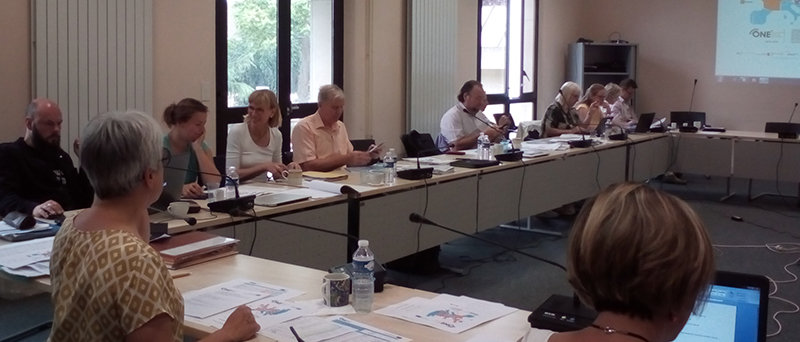 Over the ONE® is more period, 8 PCM have been planned to be host by each partner in turn on a biannual basis. Those meetings are an opportunity for the partners to share in the coordination, cooperation results and issues. The planning of the coming activities, their adjustment, the communication plan, the monitoring of the budget and the respect of the network objectives are at the core of the agenda.
Besides, during these meetings, the partners have the chance to get better acquainted, visit performances and heritages sites.
PCM1 - Sofia (BULGARIA) - 3 to 5 October 2015
It was the first PCM hosted by our former associated member and newly full member, the New Symphony Orchestra (NSO) – BG. It was also the opportunity to welcome the other new member of the network: the University for the Creative Arts – UK. 
This meeting session was mainly dedicated to go through the full workprogram. All partners had also the opportunity to meet the GRAME team, invited as a guest speaker, and discuss the concept of the Choir of smartphones concert they've been commissioned to develop in the frame of the Network.
On October 5, a press conference was organised for the official launching of the ONE® is more program. Among the attendees were the Bulgarian representative of the Ministry of Culture, Elianka MIHAYLOVA, and the Belgian ambassador in Sofia, Anick VAN CALSTER. 
PCM2 - Canterbury (UNITED KINGDOM) - 13 to 15 April 2016
PCM3 - Ljubljana (SLOVENIA) - 26 to 28 November 2016
PCM4 - Amiens (FRANCE) - 26 and 27 June 2017
PCM5 - Katowice (POLAND) - 25 and 26 November 2017
PCM6 - Zilina (SLOVAKIA) - 20 and 21 March 2018
PCM8 - Zlin (CZECH REPUBLIC) - 9 and 10 March 2019
Back to upcoming events